The Easter Bunny is another Mythical Creature that rewards the player with gold upon death in the form of a nest full of eggs.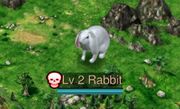 Tips
Treat This like any other mythical Creature as any event involving a Mythical beast is usually not easy to kill with low tier units.
Trivia
Rather then being called Easter Bunny it's in-game name is just rabbit.