---
This article or section is in the process of an expansion or major restructuring.
You are welcome to assist in its construction by editing it as well.
---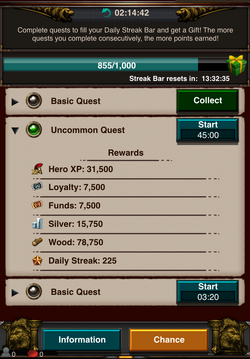 Quests are tasks, that upon completion give a number of rewards, ranging from Power, Hero XP, Resources, Items and even sometimes Gold. Quests can be completed anywhere within a few minutes, to a few hours depending on the quality of the quest. A red box with a number in indicates the available number of Daily, Alliance and VIP quests that's are yet to be completed.
When complete a large green tick will be displayed over the Quest's icon, down in the bottom navigation menu. The rewards vary greatly depending on the quality of the quest, and can be claimed by going into the Quest Interface, and tapping on "Collect". Collecting a reward will automatically credit the reward to the empire. Items can be redeemed by going into the Items Interface, and Crafting Materials and Gems can be found inside the Forge.
Daily Quests
Daily Quests are accessible by all players, and reward Materials, Hero XP and Resources.

Alliance Quests
Alliance Quests are only accessible by players currently residing in an Alliance. They reward Materials, Hero XP, Loyalty Points, Alliance Funds, and Resources.

VIP Quests
VIP Quests are only accessible to those with VIP currently active. They reward Hero XP, Loyalty Points, Alliance Funds, Resources and Daily Streak Points. Once a player obtains 1,000 Daily Streak Points, they are awarded with a gift. Sometimes VIP Chances are required to receive the gift.

As soon as a players VIP expires, they are unable to open the VIP quest tab, in-order to claim the reward for their completed quest(s). Upon re-activation, the player is able to claim their completed VIP quests.

Empire quests
Empire Quests are based on in-game achievements, rather than timers, such as building, researching, upgrading and miscellaneous tasks, such as attacking or killing enemy Heroes.

Time-based Quests
Daily, Alliance and VIP quests are all time-based quests. They are completed by simply starting a quest, and waiting for the timer to end. Time-based quests are refreshed every 6-7 hours, and any incomplete quests are replaced. Uncompleted quests will never be lost, and will remain until the player collects the reward.

VIP Benefits
VIP enables the benefits of:
Access to VIP quests.
Autocompleting Daily and Alliance quests.
Daily and Alliance quest bonus (Additional quests per reset).
VIP Daily streaks bar, which rewards a player for completing enough quests earning 1,000 Daily Streak points.
Quest Refresh
Quest refreshes can be used to instantly refresh the timer on the next batch of quests, as well as giving an improved chance for higher quality quests.
Daily Chance

Purchase from Item store: 800000
| | |
| --- | --- |
| | Alliance Chance |
VIP Chance

Purchase from Item store: 100,000
Qualities
Community content is available under
CC-BY-SA
unless otherwise noted.