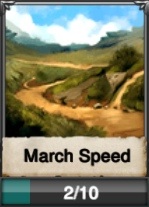 ---
March speed concerns the speed at which your military and economic marches travel at.
Boosting Through Research
You may boost your March Speed by doing research at your academy.
Located under the Economics group, you will have to level Construction, Food Production and Ore Production before being able to research March Speed.
| Level | Research Time | Building Pre-Req | Wood | Stone | Food | Ore | Silver | March Speed | Hero XP | Power |
| --- | --- | --- | --- | --- | --- | --- | --- | --- | --- | --- |
| 1 | | | | | | | | +1% | | |
| 2 | | | | | | | | +2% | | |
| 3 | | | | | | | | +3% | | |
| 4 | | | | | | | | +4% | | |
| 5 | | | | | | | | +5% | | |
| 6 | | Academy Level 15 | 320,000 | 320,000 | 320,000 | 240,000 | 640,000 | +6% | +150,000 | +32,000 |
| 7 | ? | Academy Level 15 | 640,000 | 640,000 | 640,000 | 480,000 | 1,280,000 | +7% | +175,000 | +64,000 |
| 8 | | Academy Level 17 | 1,280,000 | 1,280,000 | 1,280,000 | 960,000 | 2,560,000 | +8% | +200,000 | +128,000 |
| 9 | | | | | | | | +10% | | |
| 10 | | | | | | | | +20% | | |