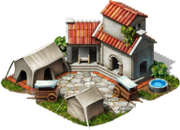 "Upgrade your Hospital to increase the amount of Troops you may heal. Multiple Hospitals can be built. The Hospital heals wounded Troops defending your city. The Hospital does not heal reinforcing troops."
The hospital is a utility building which allows the players troops defeated at the stronghold to be placed in a recovery state for healing, rather than being destroyed completely.
NOTE: Before upgrading your Hospital to the next level, you must first upgrade your Barracks one level higher than your Hospital current level.  Level 3 Hospital unlocks the Marketplace.
Upgrade
| Level | Time | Wood | Stone | Food | Ore | Hospital Capacity | Hero XP | Power |
| --- | --- | --- | --- | --- | --- | --- | --- | --- |
| 1 | 1:30 | 400 | 500 | 250 | 300 | 200 | +10 | +10 |
| 2 | 3:00 | 680 | 850 | 425 | 510 | 500 | +25 | +20 |
| 3 | 6:00 | 1,156 | 1,445 | 723 | 867 | 1,000 | +50 | +30 |
| 4 | 12:00 | 1,966 | 2,457 | 1,230 | 1,474 | 1,500 | +200 | +50 |
| 5 | 24:00 | 3,343 | 4,177 | 2,091 | 2,506 | 2,500 | +400 | +70 |
| 6 | 45:36 | 6,686 | 8,354 | 4,182 | 5,012 | 4,000 | +500 | +110 |
| 7 | 1:22:05 | 13,372 | 16,708 | 8,364 | 10,024 | 5,000 | +500 | +170 |
| 8 | 2:19:33 | 26,744 | 33,416 | 16,728 | 20,048 | 6,000 | +500 | +250 |
| 9 | 3:43:17 | 53,488 | 66,832 | 33,456 | 40,096 | 7,000 | +500 | +380 |
| 10 | 5:34:56 | 106,976 | 133,664 | 66,912 | 80,192 | 8,500 | +500 | +570 |
| 11 | 7:15:25 | 213,952 | 267,328 | 133,824 | 160,384 | 10,000 | +500 | +860 |
| 12 | 7:58:58 | 363,719 | 454,458 | 227,501 | 272,653 | 12000 | +500 | +1290 |
| 13 | 8:46:52 | 545,579 | 681,687 | 341,252 | 408,980 | 14,000 | +500 | +1940 |
| 14 | 9:39:34 | 818,369 | 1,022,531 | 511,878 | 613,470 | 16,000 | +1,000 | +2,910 |
| 15 | 11:35:29 | 1,227,554 | 1,533,797 | 767,817 | 920,205 | 18,000 | +2,000 | +4,370 |
| 16 | 15:04:08 | 1,841,331 | 2,300,696 | 1,151,726 | 1,380,308 | 20,000 | +2,500 | +6,560 |
| 17 | 22:36:12 | 2,761,997 | 3,451,044 | 1,727,589 | 2,070,462 | 22,500 | +2,500 | +9,850 |
| 18 | 1d 14:25:33 | 4,142,996 | 5,176,566 | 2,591,384 | 3,105,693 | 25,000 | +5,000 | +14,770 |
| 19 | 2d 21:10:00 | 6,214,494 | 7,764,849 | 3,887,076 | 4,658,540 | 27,500 | +5,000 | +22,160 |
| 20 | 5d 11:25:00 | 9,321,741 | 11,647,274 | 5,830,614 | 6,987,810 | 30,000 | +10,000 | +33,250 |
| 21 | 10d 22:50:00 | 13,982,612 | 17,470,911 | 8,745,921 | 10,481,715 | 40,000 | +10,000 | +49870 |
| total | 24d 23:19:08 | 41,649,155 | 52,039,544 | 26,050,943 | 31,221,249 | 40,000 | 42,685 | 149,490 |