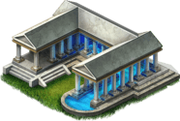 The Gymnos gives your
hero
an XP bonus. This includes any
quests
that are completed, and the hero XP gained from completed buildings and research.
If your hero dies and you choose to hire a new hero, the Gymnos will save a certain amount of XP and put it towards your new hero. A higher level Gymnos will provide a bigger XP bonus and retain more XP from a fallen hero.
At level 21, your Gymnos provides 20 extra Skill Points for your Hero.
Upgrading
In order to upgrade your Gymnos, you must first upgrade your Villa to one level higher than your current Gymnos.
Level
Original Time
Wood
Stone
Food
Ore
Hero XP
Power
Hero XP
Modifier
Hero XP
Retention
1
1:40
100
200
300
100
+
+10
5%
52%
2
3:20
180
360
540
180
+
+25
10%
54%
3
6:40
324
648
972
324
+
+40
15%
56%
4
13:20
584
1,167
1,750
584
+
+60
20%
58%
5
26:40
1,052
2,101
3,150
1,052
+
+90
25%
60%
6
53:20
2,104
4,202
6,300
2,104
+500
+135
30%
62%
7
1:46:40
4,208
8,404
12,600
4,208
+500
+215
35%
64%
8
3:33:20
8,416
16,808
25,200
8,416
+
+
40%
66%
9
7:06:40
16,832
33,616
50,400
16,832
+
+
45%
68%
10
14:13:20
25,248
50,424
75,600
25,248
+500
+715
50%
70%
11
17:04:00
37,872
75,636
113,400
37,872
+500
+1,075
55%
72%
12
20:28:48
56,808
113,454
170,100
56,808
+500
+1,610
60%
74%
13
24:34:34
85,212
170,181
255,150
85,212
+500
+2,425
65%
76%
14
1d 5:29:29
+
+
70%
78%
15
1d 11:23:23
191,727
382,908
574,088
382,908
+2,000
+5,460
75%
80%
16
1d 18:28:04
287,591
574,362
861,132
287,591
+2,500
+8,210
80%
82%
17
2d 11:27:18
431,387
861,543
1,291,698
431,387
+2,500
+12,315
85%
84%
18
3d 23:07:41
647,081
1,292,315
1,937,547
647,081
+5,000
+18,460
90%
86%
19
7d 03:13:50
970,622
1,938,473
2,906,321
970,622
+5,000
+27,700
95%
88%
20
12d

20:12:54

1,455,933
2,907,710
4,359,482
1,455,933
+10,000
+41,565
100%
90%
21
2,183,900
4,361,565
6,539,223
2,183,900
+10,000
+62,335
125%
95%