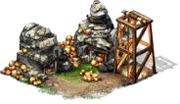 Used to give and receive gift of
gold
to friends on facebook that also play Game of War.  Prerequisite: Academy must first be at the level you want to upgrade the Gold mine to.  Each upgrade requires 1
Gold Pickaxe
at 1,000 gold coins each.
You collect 10 gold from each player, 12 if your Gold Mine is level 21. You can collect gold gifts up to your collections daily limit. You can receive 50 gold per day from a level 1 Gold Mine (5 x 10), 120 gold per day at level 8 (12 x 10) and 300 per day at level 21 (25 x (10 + 2)).
With a Gold Mine, you can receive gold without using a march of troops. Also, gold collection is instanteous, while gather gold can take a very long time if it's from a gold mine tile, or a short time from a gold chest. Furthermore, you don't have to worry about having your troops attacked while gathering, which is a very likely occurrence.
Each level of gold mine costs 1,000 gold. You receive 10 extra gold per level, You recoup your investment in 100 days.
Note: this function comes with a reciprocal daily "gold gift" function.  There is no limit to the number of friends you can "Gift" gold on a daily basis! Once a friend has connected to Game of War through facebook, you can gift them gold, whether or not they still play the game.
NOTE: Requires Golden Pickaxe to upgrade past level 1.
Upgrade
| Level | Time | Golden Pickaxe | Wood | Stone | Food | Ore | Gold Collections/day | Hero XP | Power |
| --- | --- | --- | --- | --- | --- | --- | --- | --- | --- |
| 1 | | | | | | | 5 | + | + |
| 2 | 3:50 | 1 | 190 | 190 | 190 | 190 | 6 | +25 | +70 |
| 3 | 7:40 | 1 | 361 | 361 | 361 | 361 | 7 | +50 | +105 |
| 4 | | 1 | 686 | 686 | 686 | 686 | 8 | +200 | +175 |
| 5 | | 1 | | | | | 9 | + | + |
| 6 | | 1 | | | | | 10 | + | + |
| 7 | 2:02:40 | 1 | 5216 | 5216 | 5216 | 5216 | 11 | +500 | +595 |
| 8 | | 1 | | | | | 12 | + | + |
| 9 | | 1 | | | | | 13 | + | + |
| 10 | | 1 | | | | | 14 | + | + |
| 11 | | 1 | | | | | 15 | + | + |
| 12 | | 1 | | | | | 16 | + | + |
| 13 | | 1 | | | | | 17 | + | + |
| 14 | | 1 | | | | | 18 | + | + |
| 15 | | 1 | | | | | 19 | + | + |
| 16 | | 1 | | | | | 20 | + | + |
| 17 | | 1 | | | | | 21 | + | + |
| 18 | | 1 | 802,083 | 802,083 | 802,083 | 802,083 | 22 | +5,000 | +51,695 |
| 19 | | 1 | | | | | 23 | + | + |
| 20 | | 1 | | | | | 24 | + | + |
| 21 | | 1 | | | | | 25 + 2 extra gold per collection | + | + |