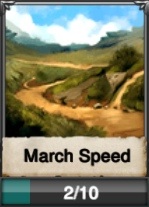 ---
Food Production concerns the speed at which your city produces food.
Boosting Through Research
You may boost your Food Production by doing research at your academy.
Located under the Economics group, you will have to level Construction before being able to research Food Production.
Usage of Food
Food is needed to train Swordsmen and other units from the barracks as such a steady supply of food is needed to maintain the army. Food is also needed to build certain Wall Traps.
| Level | Research Time | Building Pre-Req | Wood | Stone | Food | Ore | Silver | March Speed | Hero XP | Power |
| --- | --- | --- | --- | --- | --- | --- | --- | --- | --- | --- |
| 1 | | | | | | | | +1% | | |
| 2 | | | | | | | | +2% | | |
| 3 | | | | | | | | +3% | | |
| 4 | | | | | | | | +4% | | |
| 5 | | | | | | | | +5% | | |
| 6 | | | | | | | | +7% | | |
| 7 | ? | | | | | | | +9% | | |
| 8 | | | | | | | | +12% | | |
| 9 | | Academy Level 19 | 128,000 | 76,800 | 6,400 | 102,400 | 3,592,000 | +15% | +108,000 | +179,600 |
| 10 | | | | | | | | +21% | | |