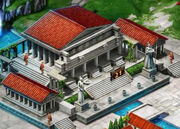 See also:
Empire
Buildings are constructed and upgraded within the City View by tapping on an empty square. Every building costs resources to build and takes a certain amount of time to construct. When constructed, buildings increase the city's productivity and power. Each building has a specific role in the city and some buildings provide unique bonuses/buffs to the economy or combat.
Buildings can (and should be) upgraded; to progress further into the game. To see the benefits and buffs of a particular building, tap on the building, and go to "More Information" at the bottom of that page, or check out the individual building pages on the wiki.
Deconstructing Buildings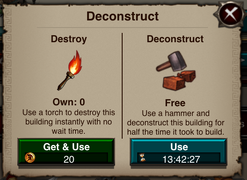 It is possible to deconstruct unwanted buildings in Game of War to change the productivity within the city. Deconstructing will remove the power gained from the building, as well as all of it's benefits. It is essential to be certain of destroying a building before deconstructing it. Destroying a building can be done for free, at the cost of a timer, based on the level of the building. Additionally, it can be deconstructed instantly by using a torch, at the expense of 20 gold.
To deconstruct a building, Tap the building, Go to Deconstruct, and choose a method of deconstruction.
Upgrade Arrows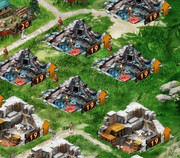 Upgrade arrows are a game setting/option. When active, the player will see small orange up arrows beside a building, which indicates that they meet all the requirements and resources to upgrade that building.
To enable/disable this feature, go to: More > Options > Upgrade Arrows.


Buildings Directory
Type
Building
Purpose
Urban

Black market 

Hero hall

Mythical training grounds 

More to come 

Research

Boosts upon the execution of a enemy hero

Training of troops

Reinforcements

Explore vast labyrinths with savage monsters

Crafting, combining and more

Hero XP acceleration and preservation

Healing troops

Intra-alliance trade

Capture of enemy heroes

Protection of resources from attackers

Main building

Produces gold

Produces silver

Build traps for city defences

ScoutinScouting 

Use black marker tokens when open 

Used to hire a new hero type or change hero 

Used to train mythical creatures 

????

Rural
Buildings Map
Community content is available under
CC-BY-SA
unless otherwise noted.